OUR QUALITY PROMISE
Working for over 20 years with pearl experts, every one of our pearls is hand selected for each unique design. Claudia's design handprint offers a new attitude to this oldest, and most beautiful of gemstones.
925 sterling silver, a precious and rare metal, is used in all our designs with either rhodium, or 18k gold plates to create tarnish resistant jewellery that is also hypoallergenic.
THE GLOSSARY
Here are some of the qualities (and explanations of jewellery terms) that make our jewellery so special.


925 STERLING SILVER –  a precious metal as opposed to a base metal like bronze


RHODIUM – this precious metal is a rare, silvery-white, hard, corrosion-resistant transition metal. It is a noble metal and a member of the platinum group.

18K GOLD – 18k is 75% gold and 25% other alloys. The purest gold is 24k but we use 18k as we prefer the colour.

PRECIOUS METALS - precious metals are rare, naturally occurring, metallic chemical elements of high economic value. Chemically, the precious metals tend to be less reactive than most elements. They are usually ductile and have a high lustre

MICRON – this is a scientific measurement used in the process of gold and rhodium plating, and is used to differentiate between lower-end plating and higher-end plating. 

The two categories of plating are flash plating, and micron plating. Flash plating only gives a piece of jewellery a really quick recolouring- because of how thin the plating is, it's not a durable and long-lasting option for hard-wearing pieces such as rings or bracelets. 

Micron plating, on the other hand, is where the measurement comes in. A micron is 0.001 of a millimeter. It's a little hard to visualize, but basically any plating that's 1 micron or up is good quality. As a comparison, flash plating is less than one micron- it's actually under 0.175 micron. You can imagine how thin that is considering the size of a regular micron.

GOLD PLATE/PLATING – there are different methods of gold/rhodium plating, but the workshop that we partner with use electrolysis, which is dipping the pieces into a chemical solution. This allows for a permanent 'fix' of the plating metal.

RECYCLED SILVER - 85% of our silver is sourced from recycled silver. HYPOALLERGENIC – our use of precious metals means our jewellery is hypoallergenic but some people with rare skin conditions may have a reaction to the metal.

TARNISH RESISTANT– so long as you don't allow harmful chemicals to touch our jewellery, it will be tarnish resistant. Everyday harmful chemicals would include chlorine/pools, saltwater/the sea, suncream and perfume. To note they will all corrode both the plating and damage the 925 silver underneath.

FRESHWATER PEARL – these are 'cultured' pearls that are grown in mussels, in freshwater lakes.

A GRADE PEARL – this grading, used by the gemological institute of america, the GIA, means you will get a high quality pearl, with a good lustre and skin tone, and with a long lasting 'nacre' (the layering which gives the pearl it's lustre).

HAND-CRAFTED – each design is made by skilled craftspeople. Our knotted pearl designs are hand-knotted by an all female workshop in Hong Kong. For our cast silver designs, we work with a second generation family business in Thailand. Casting silver involves very precise and highly skilled processes. Each item is either stamped or cast and involves a minimum of 6 steps to the finished piece; each step looked after by a skilled crafts person.

HAND SELECTED – each of our pearls is hand selected for each design to ensure the right balance, quality and lustre is given to the final design.
we create pieces to last
We plate the 925 silver with rhodium which means the silver is tarnish resistant. Rhodium is:
A rare, silvery-white, hard, corrosion-resistant transition metal. It is a noble metal and a member of the platinum group.
Please note that no metal is 100% anti-tarnish, but rhodium plating does make the silver more resistant to tarnishing.
We plate the 925 sterling silver with 1 micron of 18k gold; we choose 18 gold (which is 75% pure gold) as we like the colour of this blend. We refer to this as 'gold plated' or 'gold plate'.
To find out more about the special properties of 925 precious silver, and Rhodium:
READ HERE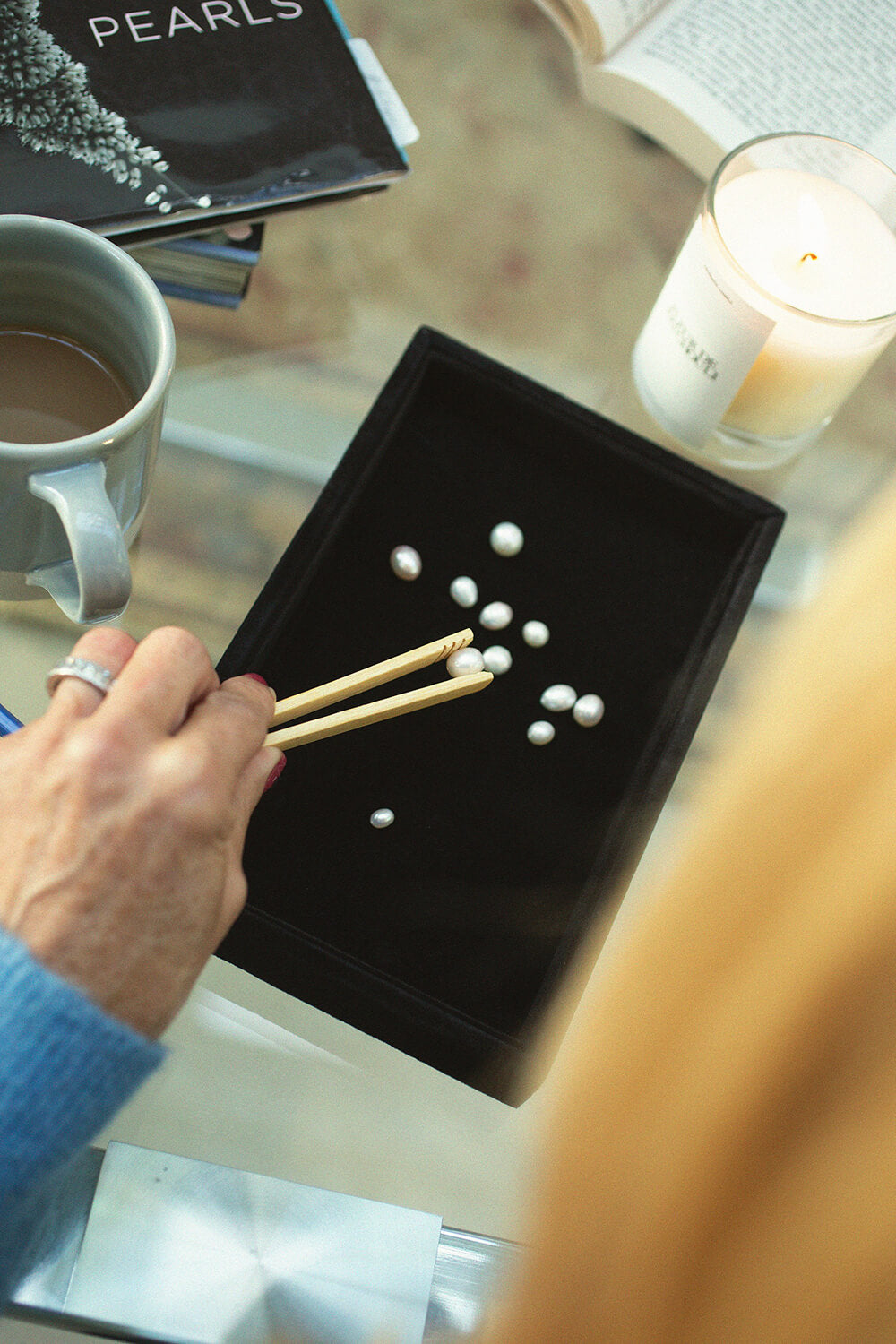 Our Unique Pearls
All our designs are created by skilled crafts people, from multi-generational silver smiths and pearl experts.
All our pearls are hand selected, and for the hand-strung pearl items these are knotted by hand in Hong Kong by an all female business, who Claudia has been working with for over 20 years. 
We only use the best pearls, graded at least a single A. Our freshwater pearls are farmed in 'fresh water', rather than 'sea water.
Silver is cast, soldered and polished by hand in Thailand. Each piece passes through the hands of 5 skilled individuals, this number will vary by design before being plated with our rhodium and 18k gold to make the jewellery both tarnish resistant and hypoallergenic.
BECOME A PEARL EXPERT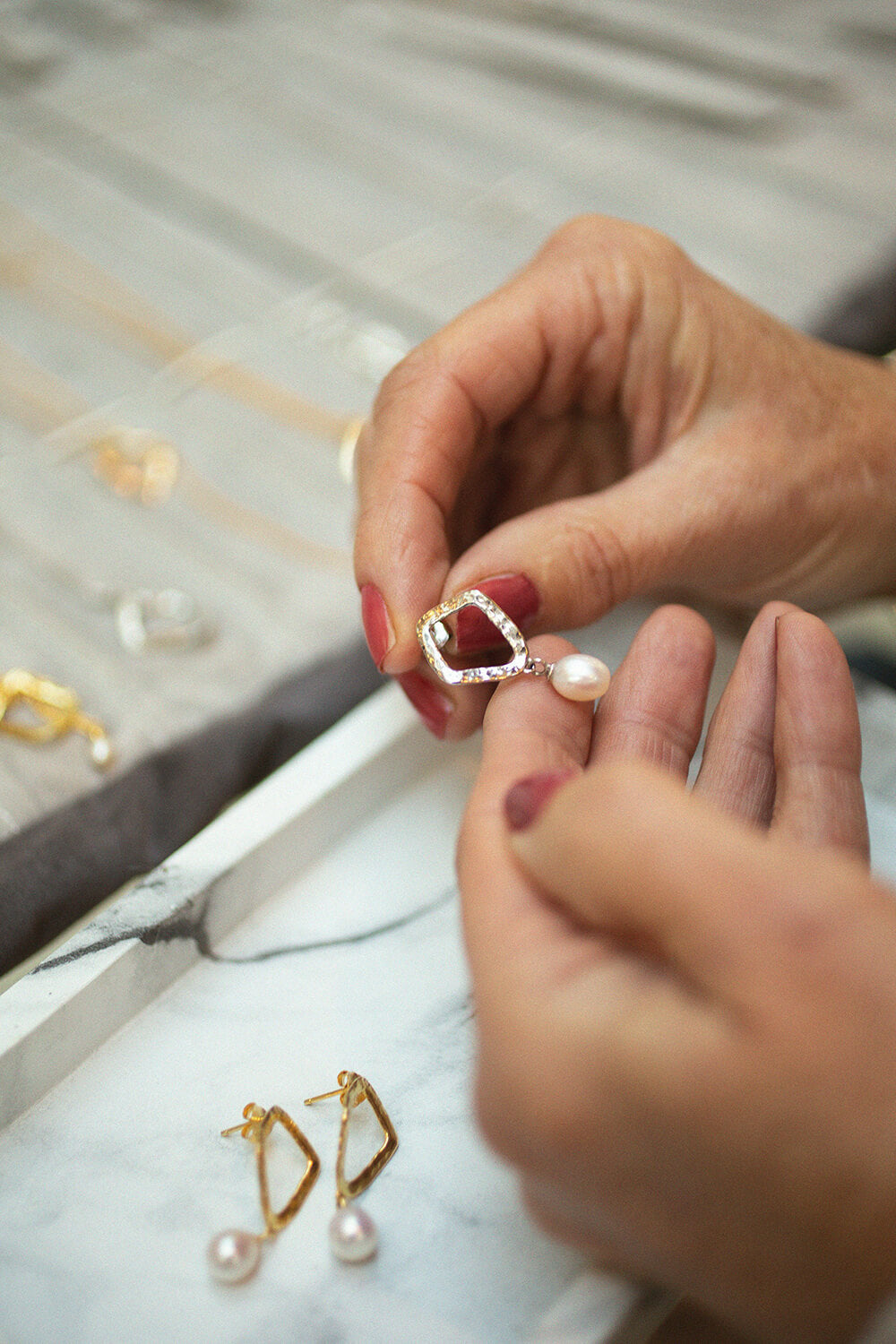 Protect your pearl jewellery
We like to protect the things we love:
Never wear your jewellery in water
Dress your pearls last 
Chlorine, saltwater, perfume, suntan spray will all deplete the lustre of your pearls (eating away at the nacre), as well as the silver and gold elements.
Keep in your CB pouch to protect the surface of your pearl
All of our jewellery comes with a one year guarantee, however it is important to store, clean and wear your pearl jewellery to keep it looking new.
OUR TOP TIPS
Every element of our business is underpinned by a forensic care and attention to detail. From concept to design, from sourcing the metals and pearls to the final polish or hand knot, right through to being carefully put into our luxury exclusive CB jewellery boxes and pouches.
"My hope is that every time you put on a piece of our jewellery the thought and care that goes into the design and creating of each design will shine through. I think the connections between us are one of the fundamental drivers of humanity. 
Since the dawn of humankind, we have been driven to create items of beauty to represent and mark our stories, and jewellery is an exceptional illustration of this.  Who can forget the first piece of jewellery they were given or that they bought for themselves.
Jewellery is uniquely personal, which is why we give it the highest level of care."